Augmented Reality Professional Controller Front-end for the Parrot AR.Drone quadcopter flying computer. Features Full Motion control, object following and tracking, management of all AR.Drone configuration data, and the ability to use your phone's azimuth axis (compass) to control the Yaw function of the AR.Drone, and much, much more!
FEATURES
----------------
Full Honeycomb & ICS support
Android tablet support
English, French, & German localization
Comprehensive firmware management
Rename drone
Drone reboot

Full function flight mode (sensors & touch panel)
Configurable flight controls
Left handed mode
Dual stick mode
Ability to reverse controls
Reversible X/Y axis orientation
Deadzone tuning on all axis
Azimuth based yaw (requires compass)
Yaw mixing and rate control
Outdoors / Indoors hull selection
Altitude limiter
Ultrasound frequency selection

Features full QVGA display
Video bitrate tuning
Supports UVLC & P264 video encoding
Adaptive (variable bitrate) video support

Shellware's own "Autonomous Flight" mode
Object recognition via both cameras
Object follow/tracking via both cameras

Flight timer
Audible alerts
Altitude HUD
Battery voltage HUD
"Snapshot" screen shot option
UI opacity (alpha level) config
Metric system support

Wi-Fi channel change
Auto connect for saved SSIDs
Drone SSID change option
Drone IP address setting
Device pairing
Optimized NAVDATA reception
Infrastructure Wi-Fi patch for older firmwares
Use at your own risk. Author provides no warranty, written, or implied.
Gareth Brandwood was gracious enough to develop and and share a User Manual for AR.Pro. Garth's work can be found here:
AR.Pro User Manual
-- Thanks Gareth!
AR.Pro is available at the following locations:
Google Play Store
AndroidPit
Amazon Android Appstore

Now with Honeycomb elements (available only via the Android Market)
Map View Sliding Drawer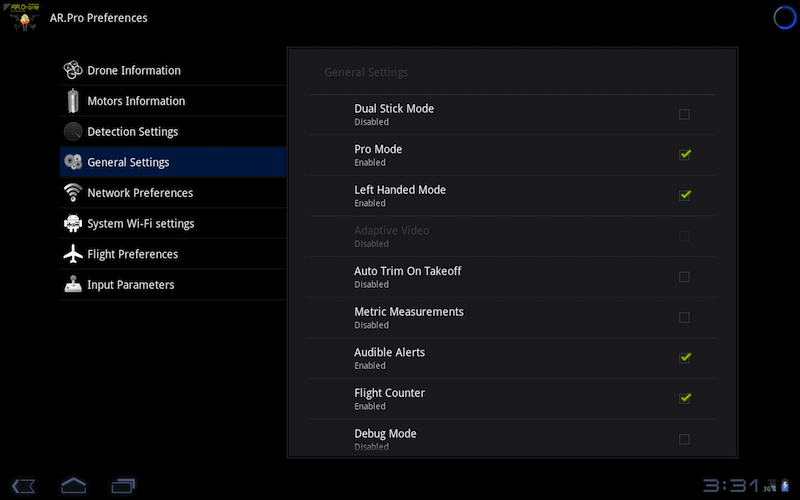 Licensing Info
AR.Pro utilizes specific software (Jakarta Commons.net) for performing a handful of functions. This library is used as is, without modification and every effort has been made to adhere to the Apache 2.0 license -- located here:
http://www.apache.org/licenses/LICENSE-2.0.html
" onclick="window.open(this.href);return false;" onclick="window.open(this.href);return false;" onclick="window.open(this.href);return false;" onclick="window.open(this.href);return false;" onclick="window.open(this.href);return false;" onclick="window.open(this.href);return false;