Hello dear Drone Flyers !
A lot of programs already exist to control the ar drone from a pc, but at the time as I was looking for, I could not find what I was expecting, so I decided to write my own program.
So today I want to present my little contribution to the Ar Drone community : ArDrone Controller.
Main features:
- Support Ar Drone 1 and 2
- Video stream (front and bottom camera)
- Control using the keyboard and a joystick/joypad
- Assign the joystick axis to the wanted direction, and assign buttons to specific actions (recording, take a photo...)
- The connected joystick is recognized on startup and its configuration is loaded
- Alarm for low battery level and low wifi signal
- Switch between fullscreen or windowed display
- Configurable head up display with information about altitude, speed and direction
- Limit altitude, speed and acceleration
- Record videos on pc and/or usb
- Takes pictures
- Support custom ip addresses (if your are connected to the drone through a router for example)
- Support multiple languages (can be extended using languages files) and units (meters/feets)
- Watchdog thread to restart video, navdata or commands in case of failure, lost signal, etc...
- No installation : Unzip and start the exe (or read the .pdf help file
)
- 32 bit application that runs on all windows platform (even 64 bit)
- Return to home function based on GPS
- [Experimental] Return to home function without GPS, based on the internal sensors of the drone
NOTES
- The return to home function based on the internal sensors (without GPS) should be used carefully, it's an estimation of the position and depends on calibration, wind, etc... and will never been as accurate as the gps based RTH !
- The return to home function based on GPS works great... if enough satellites are available !
- When recording on USB is active, or because of codec switchs, the video may become instable, an the drone sends sometimes bad pictures. Some of the errors are catched by ArDroneController, but sometimes you get just a black video output, so don't fly to far away !
Screenshot :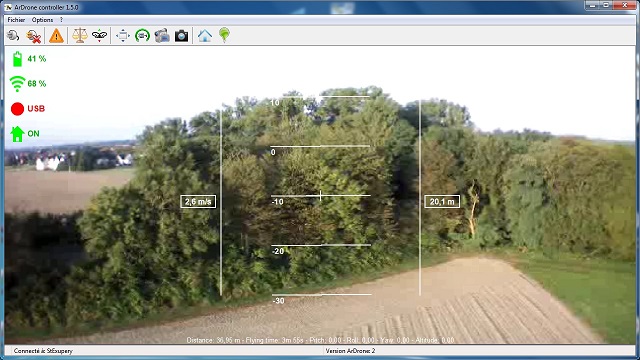 Click to get full size
Video presentation
Direct link:
http://www.youtube.com/v/PJixe7M4Y5s
One advantage of flying using a pc, is that you can add an external usb wifi adapter, with an antenna, to extend flying range. This is what I did
Application link:
To get the current version,and sources, follow the link.
ArDrone controller home page
Enjoy flying !
Le Frenchie
PS: This program has been presented in february 2013 for the first time, on a french forum, here is the link if you want to see the history:
Drone-Multirotor
PS2: Sorry for my bad english